Alastair Parvin: "Housing as project" (May 7)
Welcome to a talk by Alastair Parvin, designer, inventor and co-founder of the WikiHouse Foundation. He will present his ongoing work on housing crises, open production and the implications of the 'third industrial revolution' for the way we plan and build democratic, resilient, citizen-led cities. The event is part of the lecture series "...as project", where actors active in the field of architecture are invited to the KTH School of Architecture to give an in-depth and detailed account of one, specific project. Free and open to the public, and the student-run Thursday's bar will be open for the occasion.
Time: Thu 2015-05-07 18.00
Location: Triangeln (entrance foyer), KTH Arkitekturskolan, Östermalmsgatan 26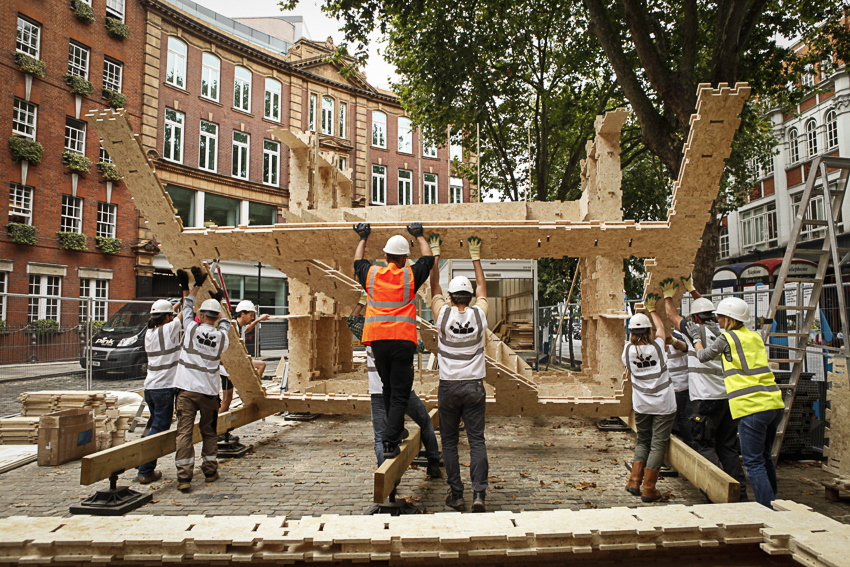 The WikiHouse system put to work (photo by Margaux Carron)
ALASTAIR PARVIN
Alastair Parvin is a designer and inventor with  00 London , and the co-founder of  WikiHouse Foundation. He is currently working on housing crises, open production & citizen-led cities.  Although he trained and practices in architecture, his work extends outside its traditional framework, looking at the economic, social and technological systems behind it. He is a co-inventor of WikiHouse, an open source building system which is uses open design and digital manufacturing to radically democratise the production of homes.
He also thinks, writes, speaks and advises on the design of more democratic systems – what the 'third industrial revolution' means for the future of cities, the economics of architecture, democratic development and urban planning, how the design of markets and technologies shape our politics, and how lateral thinking can be engaged to address some of the most critical social, environmental and economic problems we face.
This event is the fourth installment of the lecture series "...as project" at the KTH School of Architecture, preceded by "Perimiter as project" by Jing Liu of SO-IL,"Intervention as project" by Brynony Roberts and "Loss as project" by Jonad Dahlberg. For the series, the speakers are invited to present one specific project in great depth and detail. The aim of the series is twofold. Firstly, rather than rushing through a practice's complete ouevre, the ambition is to provide an apportunity for a closer look at, and a deeper understanding of, a single work of architecture. Secondly, the series as a whole is an attempt at instigating a wider conversation on the notion of "the project" in architecture. Throughout the series, we will be opening inquiries into design and construction processes, contextual settings, singularity vs continuity of practice, client relations, post-occupancy, and so forth.
Hosted by the KTH School of Architecture. See the event posted  on facebook  for additional information on this and coming events.
The student-run  Thursday's bar  will be open for the occasion. Welcome!