Léonie Geisendorf Architectural Award 2018 to Sofie Tidstrand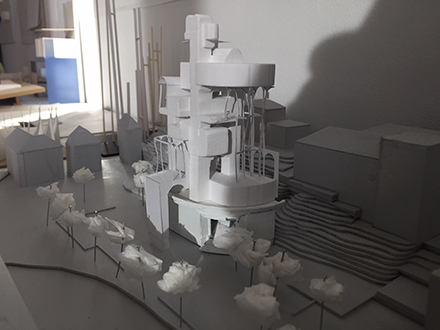 Published Jun 07, 2018
As part of the Diploma Degree Ceremony on Friday, the Léonie Geisendorf Award was presented to Sofie Tidstrand for her exploration and architectural interpretation of Edith Södergrans poetry.
The Diploma Project is entitled "An Architectonic Interpretation of a Poetic Universe" and the jury summarised it as " a powerful and eccentric architectural sculpture that manifests its right to a place in the urban fabric, a liberal architectural manifesto that makes Edith Södergran present on Södermalm, by embedding reflections on place, movement, symbolism, politics and gender. Read the jury's full motivation here: Motivation2018.pdf (pdf 60 kB)
Sofie Tidstrand's Diploma Degree Project is available here
The Jury has consisted of Staffan Gezelius, Hag Arkitekter, Cecilia Ström, Allegro Projekt, Hedvig Ersman, Ersman Architecture & Design. Charlie Gullström, KTH, is the jury's permanent secretary.