Lighting Design: 20 years celebration
In 2020 we have a reason to celebrate; Lighting Design Laboratory's 20 years of existence! Since year 2000 this fantastic education created by Jan & Agneta Ejhed, continues educating Lighting Designers from all over the World.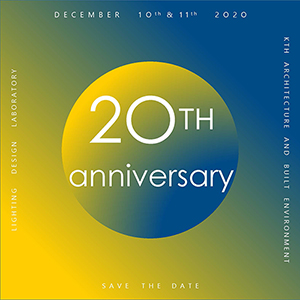 Lighting Design: 20 years celebration on 10 - 11 December 2020
By coming together and talk about light, while enjoying a bite, "light for food", we will take a look into the past 20 years and look forward for 20 more.
We will host several digital round tables at different "locations" for former students to meet. Please send us a request for sending you the link based on your current location to rema@kth.se .
We have created sessions for: Australia, Brazil, Germany, Greece, Israel, Iran, Mexico+Chile, UEA, UK, US, Thailand, Japan+China and Sweden.
Sessions will be open for the extended lighting family to attend as observers for the conversations held by today's lighting design professionals, prior-kth students. At each session mics will be open at some point to get in touch with all .
Hoping to see you all at this celebration which is also a very well deserved recognition to the efforts of Jan & Agneta!